VIOLENT NOMAD cage fights are individual or team events. Single opponents or small teams of 2-3 individuals each oppose each other in this setting in tactical close combat or street fight-like situations, which includes donning tactical gear for the fights. Anything goes, there are only very few moves excluded; the goal is to have fighters fight REAL, dirty, and with any and all combative moves they want. Cage Fights have a set duration of usually about 5 minutes, during which the opponents try to score points by striking, kicking the opponent, they may use weapons (special combat weapons) and any object presented within the cage. They can take weapons away from the opponent, too, if they can do that. Whoever scores the most point within the set time will win. Knockout are possible and allowed.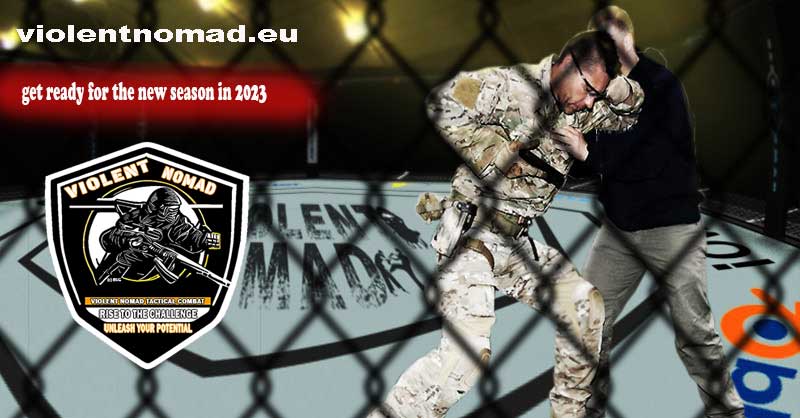 Since our fights, in the cage or in tournaments, try to simulate the reality of security teams, special forces and so forth. This means the us of WEAPONS will be the focus of most fights. Just like in a tactical scenario or a street fight, the operator (or fighter) has to be ready to defend against all sorts of weapons and also be able to USE all kinds of weapons or weapon-like objects. The use of weapons is, in our eyes, in fact the MAIN POINT of true martial arts, as the true martial art is connected to war, to soldiers and police, and to security operators. We are going back to the REAL martial art fighting, which today would be called "tactical combat". Thus, be ready to defend against and use ANY weapon from edged weapons, to blunt weapons, stick, baton, cane, axe, shovel or even an umbrella. In the VIOLENT NOMAD fight, special safe and secure combat trainers will be used.
In modern security, just like in special forces, team tactics and team work is of extreme importance. The Violent Nomad team events place the tactical teams in real-life situations, though simulated. The team will receive realistic assignments and task to carry out within a certain time frame. The performance of the team will then be judged by real-life special force operators. This is the bread-and-butter of top security operators... breaches, assaults, rescue missions - anything is possible... fire fights will take place with laser target acquisition, but other than firing live rounds, nothing else will get closer to the real thing... this is exciting action of the world of true martial art of today!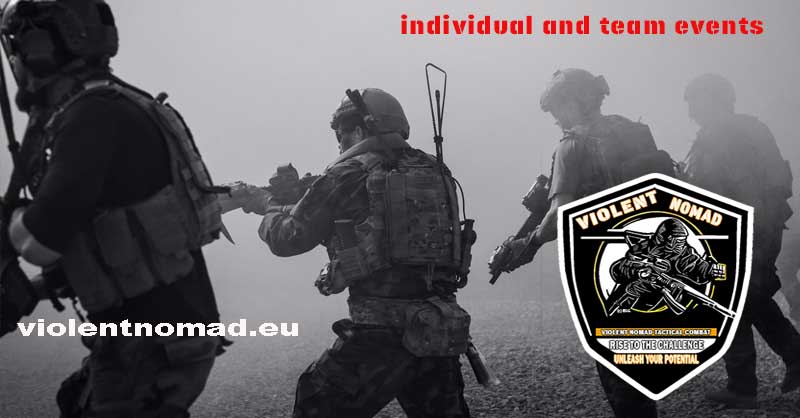 The top military or secret service teams, undercover operators and even private security operators need to travel around the globe in order to do their jobs. In fact, that is where the term "Violent Nomad" comes from. Quite frequently, such assignments involve the necessity of combat survival skills, e.g. operators need to survive in extreme situations, self sufficiently, hide away from the enemy, sometimes even over days or weeks; at other times, they need to reach a save heaven somewhere and simply get there and survive. We call all this COMBAT SURVIVAL, the ability to survive under even the most extreme conditions, such as war, riots, civil war or when on the run after an assignment somewhere, be it in the wilderness or a foreign city. In this category, the participants need to demonstrate in given scenarios that they possess such skills.